Abhay Ranjan is the top Corporate Trainer in Jaipur India. He has expertise in conducting corporate sessions on motivation, digital marketing, team building, and employee growth.
Are you looking for a Corporate trainer in Jaipur India? If yes, then you are at the right place. When you need a good corporate trainer to ensure that your employees develop and grow as individuals, then we can help you with that.
He is a corporate trainer who helps companies like yours promote employee growth and development. He has been working with people at all levels, from managers and leadership teams to employees and front-line staff.
You can hire his consultancy for corporates, startups, and SMEs with offices in Jaipur and the entire of India.
Corporate Trainer in Jaipur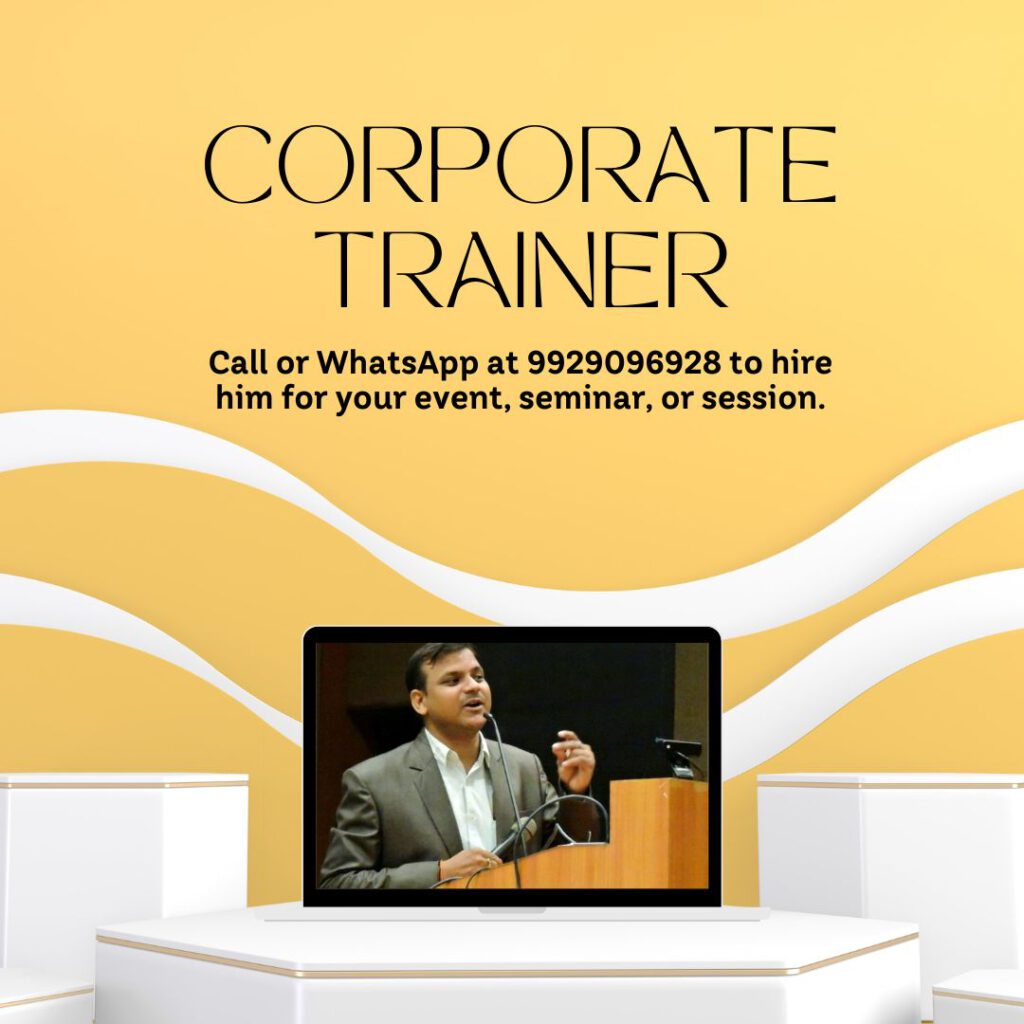 Abhay Ranjan is the best Corporate Trainer in Jaipur India. He has extensive experience more than 6 years in the field of training, coaching, and development. He has been an expert in this field. He has trained many employees from various industries.
He personally trains his trainees during the sessions and provides them with the best possible solutions for their problems. He also provides lectures to other corporate executives on various topics related to training and development.
He has been very successful in motivating people to become successful and achieve their goals by implementing various techniques like Mind mapping, Goal setting, Motivation, etc.
Abhay Ranjan has more than 10 years of experience in the education field. He has conducted numerous programs for schools, colleges, and universities across India.
Best Corporate Trainer in Jaipur
Abhay Ranjan is the best Corporate Trainer in Jaipur India. He is the most sought-after trainer for corporate training in Jaipur, India. Abhay has been working as a corporate trainer for many years and has gained expertise in all aspects of corporate training. He is also a certified Google Digital marketer and has worked as an evaluator for various companies and organizations.
He has delivered more than 10,000 hours of training to both large and small organizations. His training methodologies are based on his extensive experience as an industrial engineer and his knowledge of human behavior.
As per his knowledge and expertise, he is the best person to choose. Research more about him on Google. Type his name anywhere you want.
Call or WhatsApp at 9929096928 to hire him for your event, seminar, or session.
https://api.whatsapp.com/send?phone=9929096928&text=CONTACT%20US%20NOW
If you want to hire Abhay ranjan for Corporate Training then reach on the above details. You will get a proposal like this.