Hi all, I am going to share my DIGITAL JOURNEY. It's a journey from SEO to CEO. I have started my career as a junior SEO executive and currently, I am running a digital marketing training institute and agency.
Who the hell is Abhay Ranjan?
First of all, Have a look at this Picture. By the way, I am a hardcore Digital Entrepreneur. But I do not let myself stuck into one skill. I am a man of "One Life, Many Skills".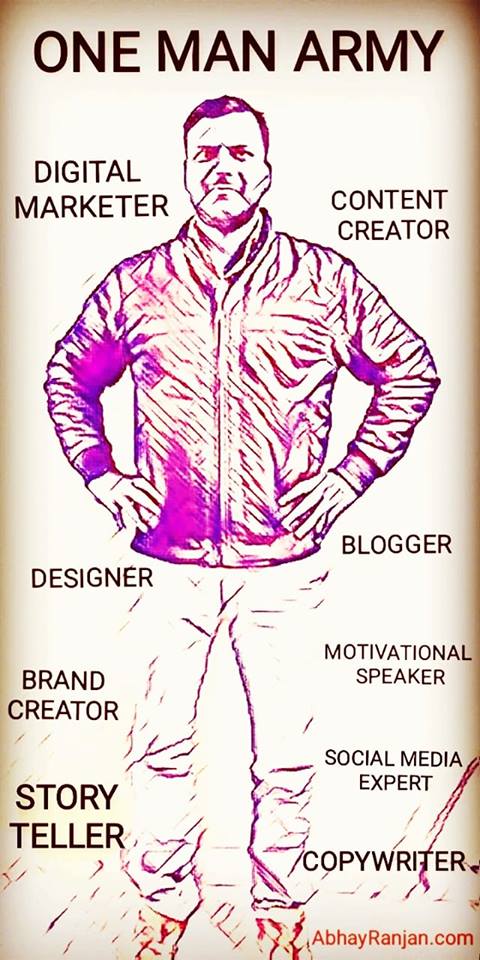 By the way, I am an engineering graduate. But, Being very frank, engineering has not given me that sufficient skill that I am dealing with now, I made this by my own efforts. The reason is very simple, that very old syllabus and unorganized education system of India.
You will be shocked by the efforts that I made to prove myself in the digital world without any support. I have created my own door when there was no opportunity coming to me. The journey is also very inspiring for someone who is looking forward to making his own name on his own criteria.
How I get started in the digital world? 
One day while browsing the internet, I was reading a blog, I found a very good article on how to make money online. I found a few great lines there that inspired me, it has written that "you can even make 30000 from one workshop or seminar". This is actually a salary of the above average person in India for a complete month. That guy was making that money. At that point in time, I thought to go into digital marketing and be that one. I was knowing that it is going to tough. But, there is nothing impossible in this world, even impossible is I m possible.
It is also written, you have to do personal branding for this.
My journey gets started from that day.
I started my blog on free platform blogger and started writing about general topics. When I realized that now I can make a move to digital marketing then I started AbhayRanjan.com.
I have not taken any help from others, I learned everything from the internet. I use to read 2 blogs a day.
First, I worked on gathering information then started sharing.
I worked on a simple formula, THE 3 "C" FORMULA
1. content
2. Creativity
3. Consistency
The below-shown data is a result of this.
(This data shown below is till 20th Dec 2018)
I am creating content over the internet on different platforms from last four years. But, I am quite very active from last one year. This is the reason I have a strong presence over the internet.
Just type my name anywhere you want, you will get my profile and content.
Sneak peek of my digital life –
Blogging: AbhayRanjan.com
Post – 70+
Instagram: https://www.instagram.com/theabhayranjan/
Post – 325+
Facebook: https://www.facebook.com/theabhayranjan/
Post – 350+
Total Manage Pages – 15+
Youtube: https://www.youtube.com/abhayranjanjaipur
Total video – 35 Videos
Quora: https://www.quora.com/profile/Abhay-Ranjan-27
Total Answer – 440+
Twitter: https://twitter.com/abhay_ranjan
Total Tweets – 574+
LinkedIn: https://www.linkedin.com/in/sirabhayranjan/
Total Followers – 2722+
Digital Marketing Training: 52+ Students
Project Done: 212+
Google Local Guide: level 6
Podcast: 5+
I believe this is just a number, if you work on a consistent basis then these numbers will keep growing.
Digital Marketing Agency – Digicite.com
One thing I made throughout my career, I never compromised with my values, ethics in a sack of money. I do not call people for work, people call me for work. This thing, I maintained from the beginning. I worked on quality, not over quantity and I am proud of the work that I have done till now.
It's hard to maintain this philosophy in today's world but I have successfully managed everything, the journey was full of struggle but now, when I look back, I feel so happy and motivated that I have got success on my way.
I will never get satisfied, I will keep creating content and also motivates others to do so.
Always remember, Be a content creator, not just a content viewer.
Thanks for reading.