Read this article till the end, you will get inspired by my journey. Know my Story.
Abhay Ranjan is a digital marketing consultant, trainer, speaker based at Jaipur. He is a 28-year-old young digital entrepreneur, who learn, relate and share new things in digital on his network. He also talks about motivation.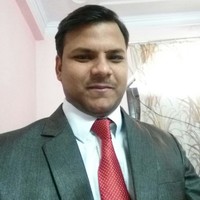 He has come from a very rural background, a small place known as Wazirganj, near to Gaya City, Bihar. He was a backbencher during his school time. He is an engineering graduate but soon he realized that his engineering does not give him what he wants in life.
Earlier, he was not aware of the word "Digital"
He has started the super fast journey of his life in digital marketing after engineering. He has started his job as 'junior SEO executive' in a small company at a very low package, he was not aware of word SEO or digital marketing at that time but due to his writing skills, he got a job there. After that, he never looked back. He got promoted on and on. He was a key employee of every company that he worked for.
During his last job, after having 4 years of experiences, he started getting an internal pitch that now he can run his own business. He managed to listen to his internal voice, which is very difficult to do these days because you will get an encounter with several questions if you want to so. He made a stand. He started his digital entrepreneur journey. In a meanwhile, he faces many middle-class problems, but he doesn't let himself got affected by this. He continues his work. He started creating content for his blog AbhayRanjan.com & social media networks.
His creativity leads him to be on YouTube. Earlier, made videos for others and now started creating "How to" series videos on YouTube. He works very hard to produce content for his audience and feels that if people learn from this, this would be his biggest achievement.
He is currently running a digital marketing training institute and digital marketing agency Digicite – SEO | Digital Marketing | Web Design Development Company in Jaipur
To know more about his work and experiences, just type his name, anywhere you want. He has made a strong presence on every platform.
To check his motivational kinds of stuff, follow him on the social network.
Do enjoy his amazing WhatsApp status. This is something like a fire.
He is open for all kind of opportunities and help, just call or WhatsApp on 9929096928.