How To Make Your Blog Post Viral
February 13, 2017

Posted by:

Abhay Ranjan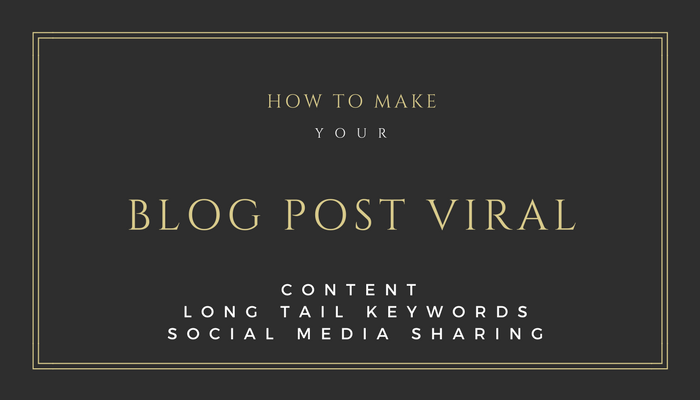 Blogging is the best way to rank high in search engine with the keywords. As, the content always play an important role in Search Engine Ranking. We often heard "CONTENT IS STILL KING". It is absolutely right and works. This blog post will help you in making your blog post viral or popular.
Only, writing your blog post regularly in fixed time interval is not enough, you should also work on making your blog post popular. So that, your content can be reachable to those, who actually wants to.
It will also make direct impact on keyword ranking, if we properly use our keywords in blog posts. Use wisely the Long Tail Keywords (keywords of more than 2 words) in your blog posts. You should also perform keyword analysis before writing your blog post. You can check keywords volume and traffic estimate with free tools like Google Adwords Keyword Planner. There are also paid tools available for keyword analysis. Go with that.
Now, i am going to share you the complete promotional activities that you can adopt after writing your blog post to make it Viral.
These promotional activities will be explained in three modules. First one will show the promotional activities that you need to perform on the same day of blog publish. Second one will explain the activities after one or two days. The third modules will explain the activities that you have to perform an week later of your Blog Post.
Module 1
Actions Performed on Same Day of Blog Post Publish –
Share your Blog on these Channels –
Pinterest
Google+ Personal Page
Twitter Personal Page
Facebook Personal Page
LinkedIn Personal Page
Facebook Group
LinkedIn Group
Additional Twitter Profile (Tag them)
Facebook Page (If not than make this)
Google+ Page
LinkedIn Company Page
Reddit
Digg
Stumble Upon
Delicious
Tumblr
Scoopit
BizSugar
Triberr
Ping the Blog
Instagram
Module 2 – 
Actions Performed on Next Day of Blog Post Publish –
Re Share on Google+
3-5 Google+ Communities
Email to Subscriber
Share through Buffer or Socialoomph
Module 3 –
Actions Performed after a week of Blog Post Publish –
Update or make some changes on your Blog Post for better google ranking and traffic.
Schedule some more Social Media share others than previous channel.
Link back to this Blog Post URL to the New Post (Keep in Mind).
Just, Follow these Modules and make your Blog Post Popular or Viral.


I have used this and found great changes in traffic as well as ranking. You can also make this. Look at my result of it on my this Blog Post.
If you find any problem, feel free to contact me, i am always ready to help.
You can also share your blog post to me for review or any help through comment section.
All the Best !
Author: admin
Abhay Ranjan is Digital Marketer, Influencer, Trainer, Motivational Speaker, Youtuber & Blogger based at Jaipur. He has five years of experience in digital marketing. He has trained around 500+ trainees in the field of digital marketing.