How to pass 'Born on Instagram' creator course
November 29, 2021

Posted by:

Abhay Ranjan

Category:

Certification
Instagram has started a 'Born on Instagram' creator course to teach creators how to succeed on Instagram.
How to join this program –
Go to https://www.bornoninstagram.com/ or type on Google 'Born on Instagram'.
Complete registration part – https://registrations.bornoninstagram.com/
Go to 'Creator Course' and click on 'Get Started'.
The course has 4 modules
PART – I: Manage Your Presence

PART – II: Create

PART – III: Grow

PART – IV: Earn Money
When you will pass the all modules, you will get a certificate like this.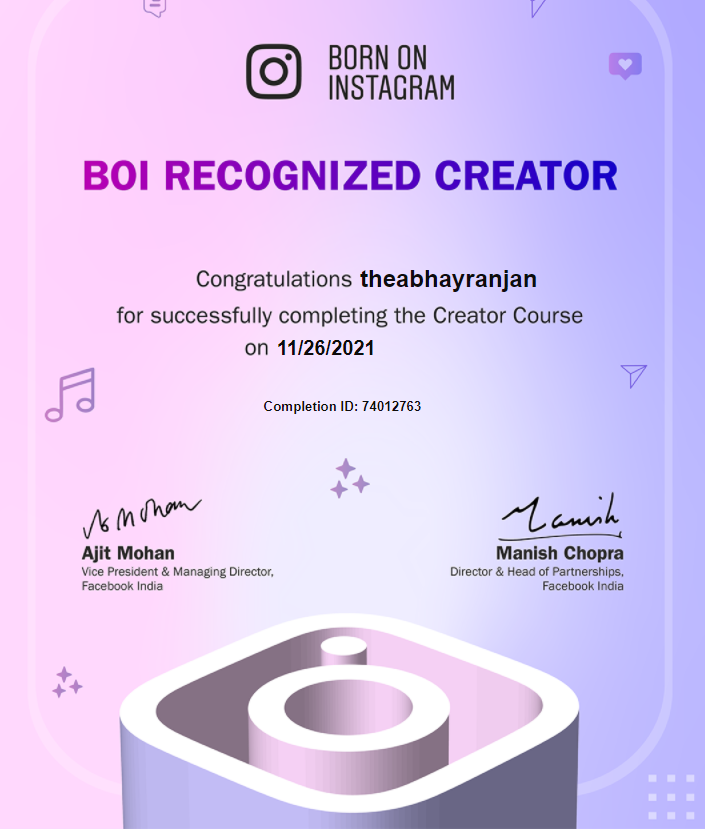 Author: admin
Abhay Ranjan is Digital Marketer, Influencer, Trainer, Motivational Speaker, Youtuber & Blogger based at Jaipur. He has five years of experience in digital marketing. He has trained around 500+ trainees in the field of digital marketing.