Instagram has started a 'Born on Instagram' creator course to teach creators how to succeed on Instagram.
How to join this program –
Born on Instagram Registration 
Go to https://www.bornoninstagram.com/ or type on Google 'Born on Instagram'.
Complete the registration part – https://registrations.bornoninstagram.com/
Go to 'Creator Course' and click on 'Get Started'.
The course has 4 modules
PART – I: Manage Your Presence

PART – II: Create

PART – III: Grow

PART – IV: Earn Money
When you will pass the all modules, you will get a certificate like this.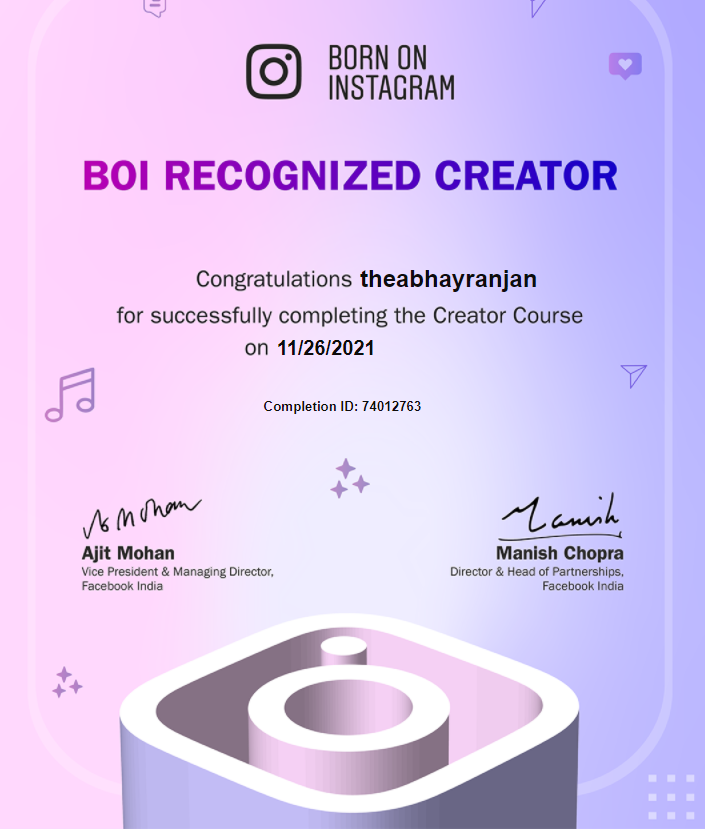 Watch this video to know the complete process (Subscribe to Youtube Channel to pass this course).
FAQ
What is born on Instagram course fees?
It is completely free.

What is born on Instagram eligibility?
No such eligibility criteria.

Where to get born on the Instagram certificate?
You will get it after you pass the exam.

Is born on Instagram course free
Yes
Hope you will this article useful.
Thank You for reading.
JOIN MY BORN ON INSTAGRAM MARKETING COURSE AT JUST RS.99.
Reach me.
bornoninstagram
bornoninstagram com
boi instagram