5 Best Tools for Checking Plagiarism in Your Writing Project
In a study by Plagiarism.org, almost 60% of the students participating in a survey admitted to cheating.
In comparison, the other 34% claimed to have done it more than twice. This growing trouble is a concern for teachers and students alike.
Because hardworking students usually end up on the wrong end of the equation. At the same time, teachers worry that some bright students waste their talents by plagiarizing their writing projects. So, how do you avoid counting in that equation?
Best Tools for Checking Plagiarism
To help students and professional writers, developers have created various tools and programs. With programs like Grammarly and Prepostseo's plagiarism checker standing out, some students get confused about which programs they should be using.
To help ease it for them, we have compiled a list of the top 5 best tools for checking plagiarism in any writing project. So, let us dig in.
1. Prepostseo's Plagiarism Checker
Visit: https://www.prepostseo.com/plagiarism-checker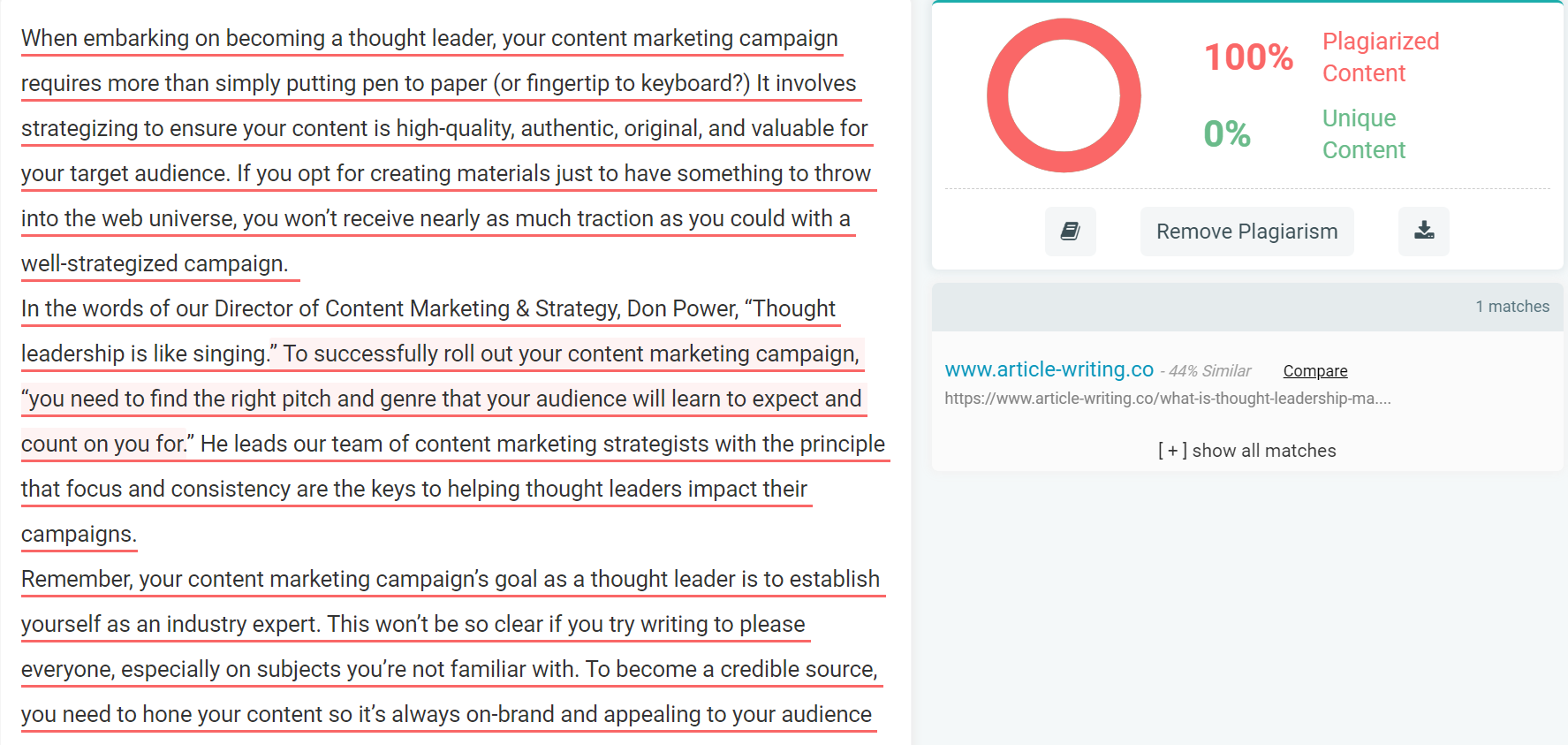 | | |
| --- | --- |
| Free Use | Yes |
| Premium Plans | Basic, Standard, Enterprise |
| Paraphrasing Tool | Yes |
| File Upload | Yes |
| Google Drive/One Drive | Yes/Yes |
| Free Use Word Limit | 1000 Words |
Prepostseo's online tool is perhaps the best one you can use today. It's easy, convenient, and does not break the bank should you choose to buy premium.
The one thing that stands out about this tool is how easy it is to check plagiarism. So, if your idea is to check plagiarism quickly and conveniently then this one should be your top choice.
Pros–
· Simple & functional UI
· Hassle-free checking and paraphrasing
· Offers free paraphraser
· URL and quote exclusion
Cons–
· You need to buy premium subscription for checking 1000+ words
Note: The premium's cost is $50 for a basic, $150 for standard, and $350 for an enterprise's yearly subscription. 
2. Duplichecker

| | |
| --- | --- |
| Free Use | Yes |
| Premium Plans | Basic, Pro, Institute, Enterprise |
| Paraphrasing Tool | Yes |
| File Upload | Yes |
| Google Drive/One Drive | No/No |
| Free Use Word Limit | 1000 Words |
Duplichecker is a household name in the industry. It helps you quickly and conveniently check plagiarism. Perhaps the only drawback is that it doesn't offer online file support.
However, it makes up for the lack of Google Drive support by providing other services, such as paraphrasing.
Pros–
· Highly effective
· Easy to use
· Mostly free
· Free registration gives you 50 plag checks per day
Cons–
· Way too many paid plans
· Only one free plag check per day
· Suffers lag on some browsers
Note: Top two paid programs are Basic IV for 13.40 and PRO I for 36.85 per month. 
3. Grammarly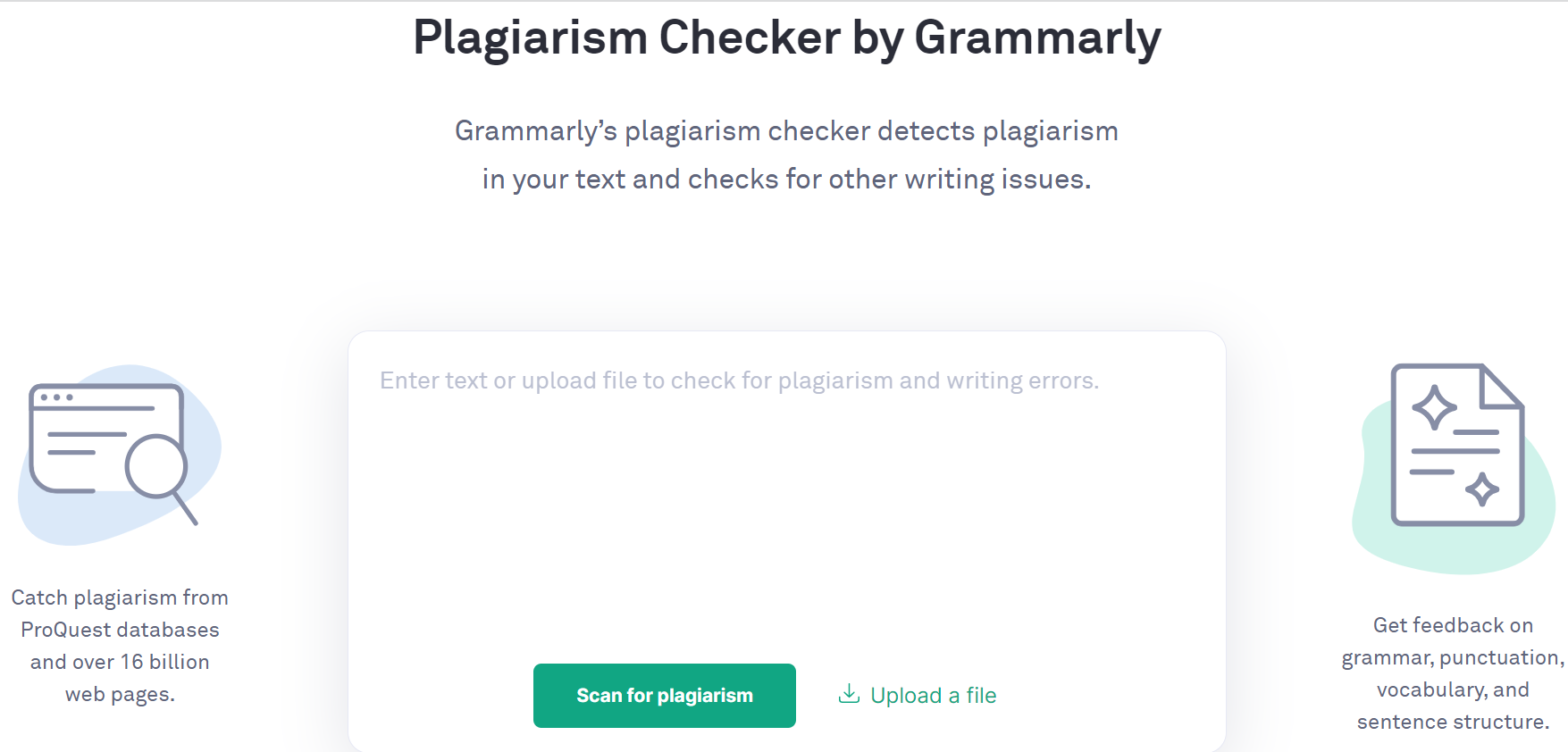 | | |
| --- | --- |
| Free Use | Yes |
| Premium Plans | Free, Premium, Business Premium |
| Paraphrasing Tool | Yes |
| File Upload | Yes |
| Google Drive/One Drive | No/No |
| Free Use Word Limit | Plag check only on the paid version |
Grammarly is one of the top names in the business today, as it is perhaps the quickest plag check out of any on the list. It offers tone and grammar fixing and a unique plagiarism checker.
The usage of Grammarly in some of the most prominent organizations around the globe should tell you about its reputation in the writing community.
Pros–
· Swift plag check
· Astounding quality and speed
· Browser and MS Office plugins
· Tone selection on the paid version
Cons–
· Marginal difference between premium and business premium
Note: Premium costs $12, and business premium costs $12.50 every month. 
4. Plagiarisma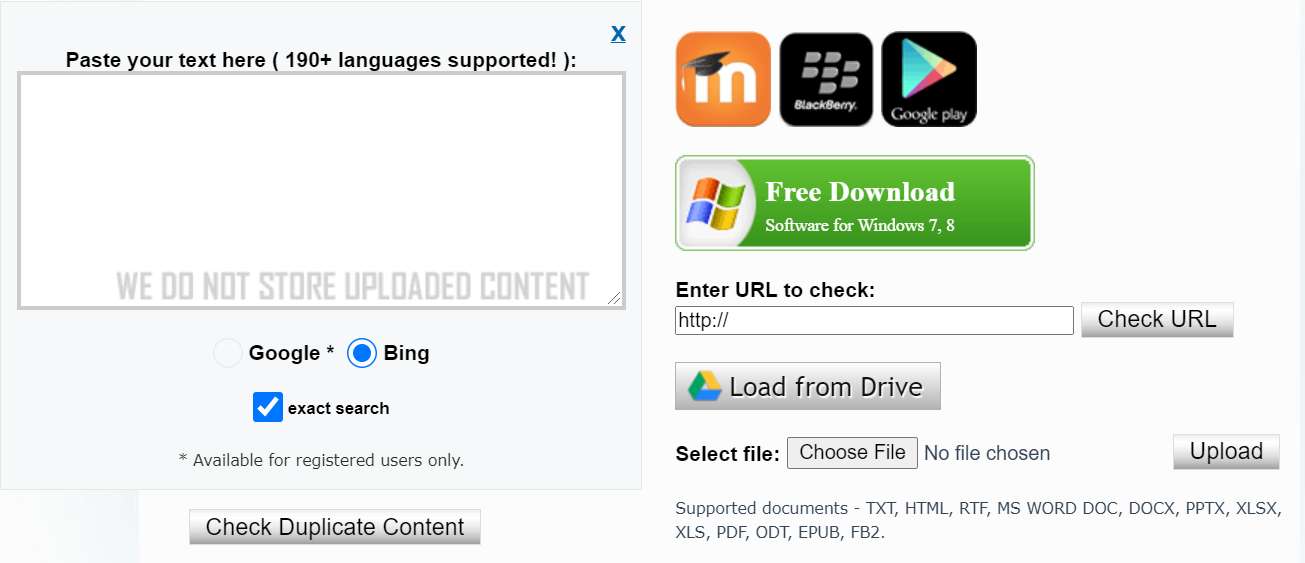 | | |
| --- | --- |
| Free Use | Yes |
| Premium Plans | None |
| Paraphrasing Tool | No |
| File Upload | Yes |
| Google Drive/One Drive | Yes/No |
| Free Use Word Limit | 1000 Words |
Plagiarisma is one of the oldest and most-used plagiarism checkers available today. It offers various services, such as article rewriter and grammar check.
While the article rewriter is convenient, a proper paraphrasing or spinning tool might be suitable for this tool. Regardless, it's one of the best plag checkers you can use today.
Pros–
· Wide variety of languages
· Most file types supported
· Downloadable add-on
Cons–
· You can plag check a max of 5-10 times per day
· No paid premium plans
5. PlagScan
| | |
| --- | --- |
| Free Use | No |
| Premium Plans | Private, Business |
| Paraphrasing Tool | Yes |
| File Upload | Yes |
| Google Drive/One Drive | Yes/Yes |
| Free Use Word Limit | 1000 Words on Free/Trial Registration |
PlagScan could be on top of this list, except for its lack of free use. It used to provide free usage, but nowadays, it's only for premium users.
Starting from $17.99 a month, you can use this program, which uses a wide variety of databases to check for plagiarism. This factor alone makes it one of the top plag checkers today.
Pros–
· Swift operation
· Quite affordable
Cons–
· No free usage
· No add-ons or plugins for browsers or office
· Unnecessarily complicated
Note: You'll pay 17.99 for Lite, 19.99 for Professional, and 22.99 for Enterprise every month. 
Why Use Plagiarism Checker for Your Project?
Plagiarism can hinder your progress and halt your studies if you're a student. On the contrary, it can push your career towards a slump if you're a professional writer.
However, the drawbacks of plagiarism don't just stop there. This element is why it's essential to understand the necessity of using plag checkers. Here are four primary reasons:
· Ensures Originality
Original content can help you advance your career, shoot up your grades, and put you in good conversations with your acquaintances.
So, checking your projects for plagiarism will not only help you ensure content's integrity but also help you advance in your academic or professional future.
· Avoids Mishaps
Imagine you're working hard on a project in your university or at your workplace. Then, all of a sudden, your work features unintentional plagiarism.
Not only does it cast a bad reflection on you, but it also shoves your hard work down the drain. Therefore, using a plagiarism checker can prevent mishaps like this from ever happening.
· Helps with Paraphrasing
Paraphrasing is one of the critical practices that many students and professional writers require. Not only because it makes creating the bulk of content easy, but also it makes it quicker.
Therefore, if your idea is to paraphrase content without committing plagiarism, using a checker will assist you. It will also enable you to find the right words for it.
· High Score
Whether you're a student or a blog writer, a high score means a lot to you. Whether you wish to push your GPA higher or make your blog appear in SERP, you need to avoid plagiarism.
So, using a plag checker will avoid any mishap, help you paraphrase, and advance with original content.
Conclusion
Regardless of your choice, make sure your content doesn't feature more than 4% plagiarism. So, using these five tools can ensure your satisfaction with your content.
Thanks for reading Best Tools for Checking Plagiarism.