Give a Boost to Your Career with Digital Marketing
What is Digital Marketing –
Digital Marketing is a process of promoting services or products through the digital medium or online. It is basically an art of getting customers to your business.
Digital Marketing can be helpful in –
Personal Branding
Job
Entrepreneurship
Who can Join Digital Marketing Course – 
Anyone can learn Digital Marketing
No Coding Knowledge is required
12th Passed/Graduate/Professional
What you will learn in Digital Marketing Course –
Search Engine Optimization
Social Media Marketing
Search Engine Marketing
Email Marketing
Content Marketing
Blogging
Mobile Web Marketing
E-commerce Marketing
Affiliate Marketing
Online Reputation Management
Mobile App Optimization
Digital Marketing Scope in India (Current Scenario) –
It is the fastest growing sector in India.
It is a new field in India.
Now, many big companies are introducing in this field.
Lots of job opportunity coming up in this sector in India.
Companies offering a handsome salary to Digital Marketing Professional.
Have a look at the latest job opportunity market research article shared by Dainik Bhaskar below.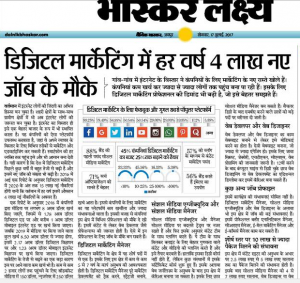 Digital Marketing is next big game –
People are using Facebook, Youtube, Blogs to find information and entertainment instead of TV, Radio, Newspaper, Magazine now.
Now, Companies are advertising where people engage themselves i.e online.
Digital Marketing is in high demand for this & Digital Marketing Professional required to manage ads campaign.
India is now 2nd largest Internet User Country after Chain.
Learn from the Google Partner – Certified Professional –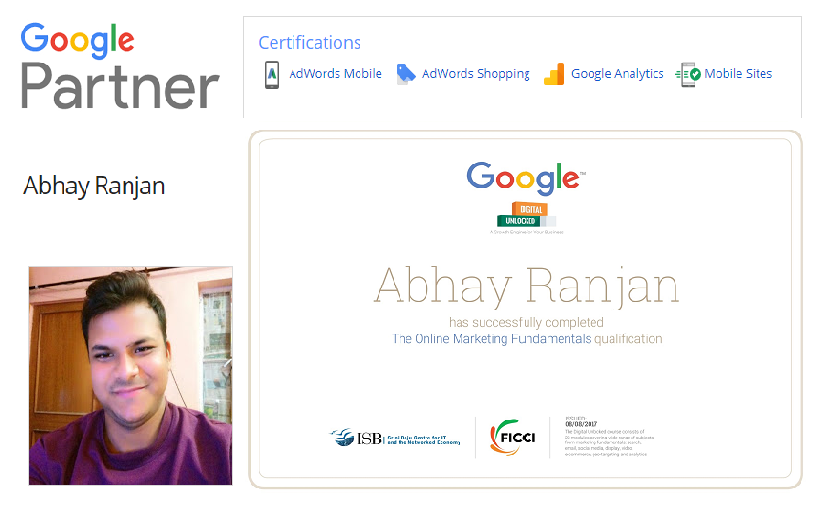 Who is Abhay Ranjan?
Graduated in 2014 (B.Tech), Started working as Digital Marketing Professional.
Worked with many companies as Digital Marketing Consultant.
Worked for many e-commerce websites like rajrang.com, toptanzanite.com, interfaceplanet.com & shopbudd.com.
Blogging at abhayranjan.com about Digital Marketing.
No.1 Digital Marketing Profile at UrbanPro.com in Jaipur.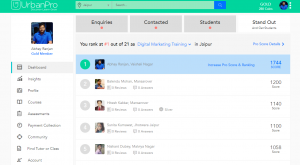 CALL OR WHATSAPP ME AT 09929096928 for Digital Marketing Training or Consultancy.
Contact me through email at mail@abhayranjan.com
OR FILL THE CONTACT US FORM.
Digital Marketing Training
Day Wise Schedule of Digital Marketing Course –
Day 1 – Digital Marketing Overview
Day 2 – Website Planning & Creation
Day 3 to Day 14 – Search Engine Optimization (On Page & Off Page)
Day 15 to Day 20 – Social Media Marketing
Day 21 to Day 23 – Email Marketing
Day 24 & Day 25 – Google Analytics
Day 26 & Day 27 – Content Marketing
Day 28 & Day 29 – Google AdSense
Day 30 to Day 32 – PPC Advertisement & Google Ad words
Day 33 to Day 35 – Blogging (Word Press & Blogger)
Day 36 to Day 38 – Online Reputation Management
Day 39 & Day 40 – Mobile Web Marketing
Day 41 & Day 42 – E-commerce Marketing
Day 43 to Day 45 – Affiliate Marketing
Day 46 & Day 47 – Online Display Advertisements
Day 48 – Mobile App Optimization
Day 49 to Day 51 – Lead Generation for Businesses
Day 52 to Day 54 – How to get benefits from Digital Marketing course.
(Getting work from Freelance & many online Platforms)
Day 55 to Day 60 – Creating Digital Marketing Strategy.
(Doubt Sessions).
You can also get these Google Certification after completing Digital Marketing Course –
CALL OR WHATSAPP ME AT 09929096928 for Digital Marketing Training or Consultancy.
Contact me through email at mail@abhayranjan.com or Fill the Digital Marketing Training Form.
SUPERFAST SEO TRAINING IN JUST 7 DAYS –
Get mastery of SEO in just 7 days with Superfast SEO Training Course. Call or Whatsapp at 9929096928.